I had been complaining that I wanted more dolls. Because I wanted to give them names, personalites, build stories around them.
I tried with two porcelain dolls I had, Cosette and She-Didn't-Really-Get-A-Name-but-sometim
es-I-called-her-Margaret (with whom I had some random fun before, as can be seen
here
and
here
)... but their feathery hats kept loosing feathers everywhere and making me sneeze. It was a hassle and I soon gave up.
Regardless, I liked the name Cosette.
Anyway, on Thursday night, I was given this little doll as a belated birthday gift: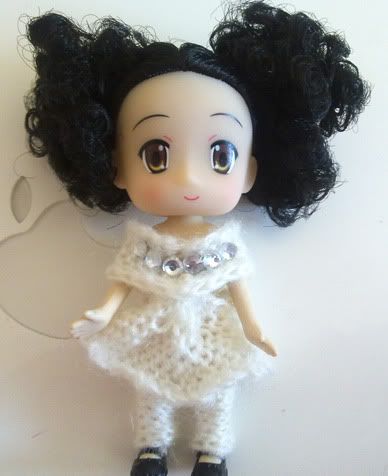 According to the gifter, she's supposed to be a mini me of sorts. Granted, not because of the skintone, but... pretty much just the hair.
Given the place where she was purchased and her packaging, I think she's meant to be a knock off version of
Ddung Dolls
.
I'm not too happy with her mouth or her dress (I like the legwarmers though!), so that's bound to keep me entertained for some time...
I'll have to start with the name.
Mood:
sick